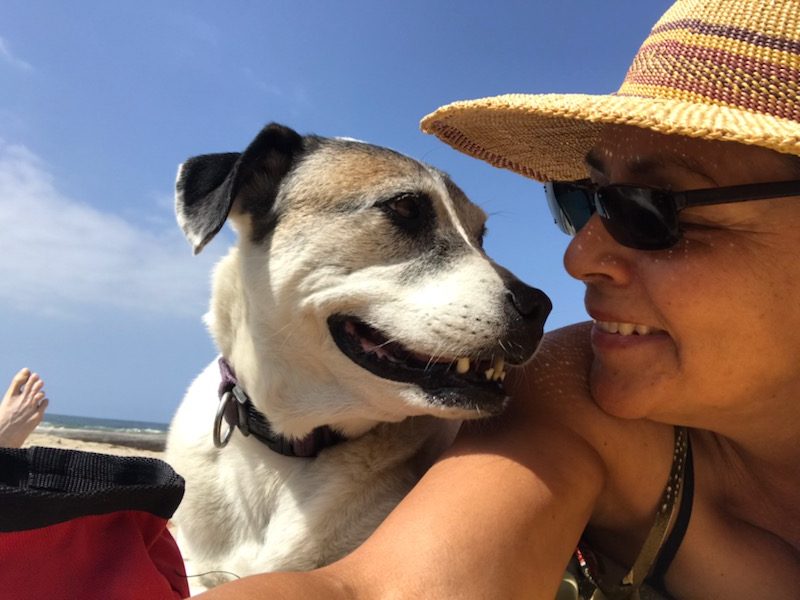 I finally made it home!
After two years and seven months of socially distancing because of COVID-19, Ken, Grace and I arrived in my hometown of Carpinteria, California, to see family and dear friends. We had a FABULOUS trip filled with laughter, great meals, and gratitude. But something I couldn't shake burned in the back of my mind.
New Mexico, our adopted state of four years, was on fire; the worst wildfires the state has ever seen. Headlines informed us that flames headed toward Santa Fe, where we live. I watched online as my neighbors posted apocalyptic-looking pictures featuring a sizzling red sun and dark murky skies and wondered what the future held in store.
Surfer Girl
As I sat on Rincon Point, an idyllic beach made famous by the Beach Boys, I grew melancholy thinking about global warming, which the fires in the southwest are attributed. Grace had a different experience. Until a few minutes earlier, she had never seen the ocean before and was playing a game of catch-me-if you-can with the waves. The excitement on her face, her crazed running in circles, followed by exuberant paws digging in the sand, made me laugh and released my gloom. I realized that, unlike me, Grace was living in the moment and the result was she was enjoying herself to no end. I, on the other hand, had succumbed to fear and was living everywhere except in the only place that truly matters—The Now. 
I was reminded of living in The Now the following afternoon when we visited Lee and Donna; good friends, who had already lost one house to fire. Donna shared that, in some ways, losing their home was a blessing and that she felt grateful because it made her recognize they had only lost "things" in the fire and not each other.
We crossed a little bridge hanging over their creek. At the end of it, a tea house sat under the oak trees. Once inside it, the four of us shared our insights about life while Grace slept between us, amusing us with her generous snores. Ken said the wildfires reminded him to take life, "moment by moment." Lee shared, "inch by inch." I added, "breath by breath."
Living in the Now
We are back in Santa Fe now and the fires, driven by unpredictable winds, continue to blaze. When my heart sinks from the latest news, and I feel the pull toward our couch to binge on Netflix and eat Vegan Bon Bons, I'm reminded of my new mantra, moment by moment, inch by inch, breath by breath. Then I look at my dog, Grace, who, even after all she suffered in her past, embodies that mantra every day.
Life is a tough gig, and sometimes frustration makes us want to throw our hands up and call it a day, but I believe animals have something to teach us about living with uncertainty, doubt, and fear. Moment by moment, inch by inch, breath by breath—our animal friends model well how to be in the Now, and to live each day with a smile.
Stay healthy & stay pawsitive,
Carlyn MDO  

PS: Please keep New Mexico in your most empowered thoughts.

Order Now for Mother's Day!