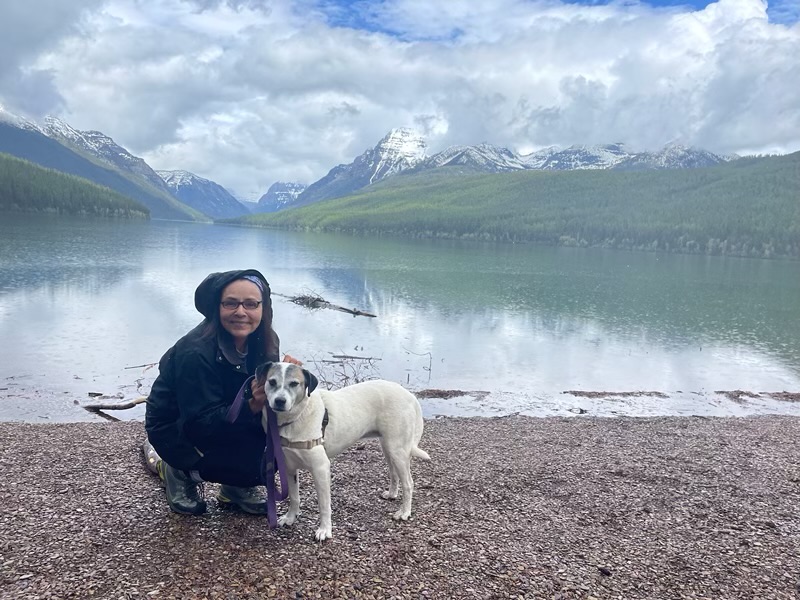 I never thought I'd get Covid. Yes, twenty-three of my friends had it during the month of July, but me? No way! Well that fantasy ended when Ken and I picked up the virus on our getaway to Montana.
During my illness, I experienced mild symptoms – my head felt like it was gripped in a vice that was being tightened ever so slowly. I was grateful for the morning when the tide turned and I became a mere puddle of sweat.
The Aftermath
Before Covid, I'd consider myself someone with pretty good wellness habits. I meditate, hike with Grace, eat a whole-foods plant-based diet, do yoga, and practice gratitude – extremely helpful activities to get through the tough times we are living in. After my brush with Covid I felt like a deflated balloon – without energy, motivation, or desire to do anything other than lie in bed. My healthy habits felt too overwhelming to even begin to try. Then I remembered what Lao Tzu once said – "The journey of a thousand miles begins with one step." My step was to pick the lowest hanging fruit, the easiest practice to begin fueling my emotional road to recovery – positive power words.
Positive Power Words
A while back, I discovered the impact that words have and wrote about it in Dog as My Doctor, Cat as My Nurse. "According to Andrew Nader, MD and Robert Waldman, coauthors of Words Can Change your Brain, a single positive word – like "peace" or "love – can alter the expression of our genes and make us more resilient. Hostile language, in contrast, can interfere with genes that play a key role in protecting us from stress."
I was so taken with the power of words that I not only focus on using positive words throughout my day but I also included this practice in my dog and cat journals – Paws for the Good Stuff – where positive became pawsitive, since these journals help animal lovers find more gratitude and nurture happiness through our unique relationships with their animal friends.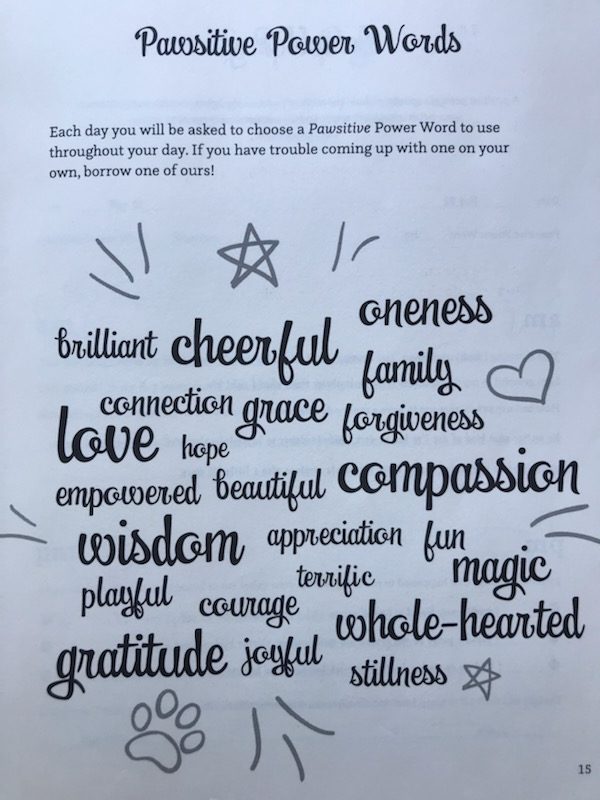 Pick a Word, Any Pawsitive Power Word
How it works – the first thing I do when I wake up is to assess how I'm feeling. With Covid, the answer is typically – exhausted. Knowing that negative energy can drain me even more, I forgo the news cycle on my cell phone and instead, I choose the first pawsitive power word that comes to mind: calm, gratitude, empowerment, connection, inspiration etc. Then I take that word and repeat it over and over in my mind as I feel the energy of it move through every inch of my body. Like filling your car's tank up with gas, the word courses through my system: body, mind, and spirit. I do this for several minutes, (usually until Grace nibbles on my ears to tell me it's breakfast time). I don't think there has ever been a time that I don't feel better from doing this short and easy practice. And, the benefits of a better mood, a more positive attitude, and even more energy lasts throughout the day.
If you just can't come up with a word but are lucky enough to be living with a dog or a cat in your home, then you have some top-notch wellness gurus that can inspire pawsitive power words. My rescue dog Grace's exuberance in the early morning hours inspires words like joy, happiness, and even her name – Grace. It's impossible not to smile when a fifty-pound dog is leaping back and forth over your nearly comatose body. And, of course, there are two power words that dogs seem to hold in their domain and are forever trying to teach us – unconditional love.
The power of the pawsitive. Give it a try and let me know how you feel.
Carlyn MDO

PS. What power word from the word cloud above are you resonating with today? Share your word in the comment box below.