Our littlest furry friends have tiny teeth and paws, which is precisely why small dog breeds need toys specifically made for them. (And food, too!) Too big of a ball, and it won't fit in your Yorkie's mouth. Too large of a toy and your Pomeranian might not be able to hold it between their paws. That's why small pups love toys designed for their small stature!
What makes a good toy for small dogs? Well, it should be easily grabbable, chewable and long-lasting. It should be size-appropriate, and it should squeak very, very loudly!
These are the best small dog toys that dogs love—from Amazon, Chewy and Petco. As always, the prices listed may fluctuate over time as products go on sale.
10 Best Small Dog Toys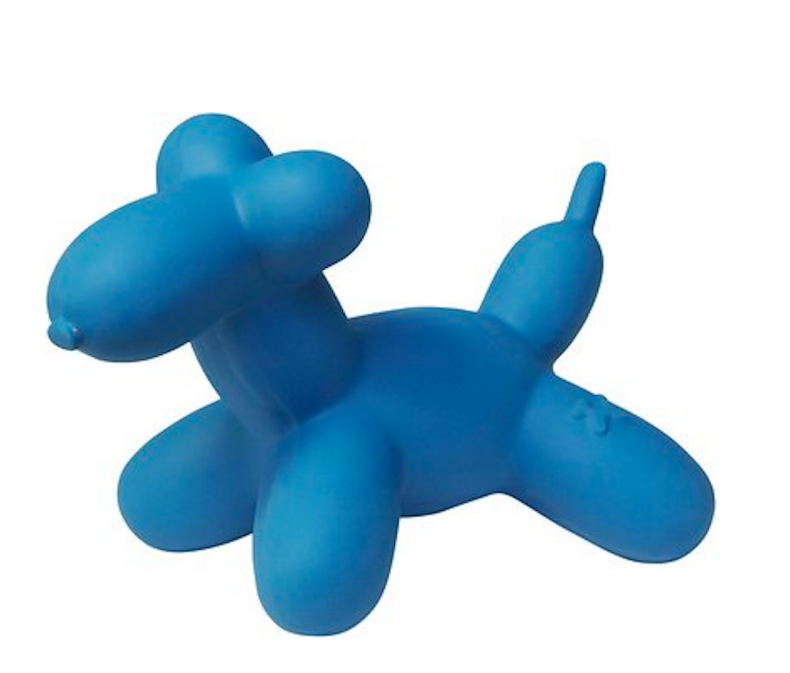 The Charming Pet Balloon Squeaky Plush Dog Toy knows what small dogs like: extra-loud squeakers! Lead- and phthalate-free and made of all-natural, premium latex, this toy is squishy and soft and has one of the loudest squeakers a pet parent can withstand. One Amazon.com reviewer wrote, "This was the first latex/rubber style squeaky toy we ever gave our puppy (4 month old golden retriever) and she loves it, when we take out this squeaky little buddy she will play with it all by herself for a solid 10-20 minutes just squeaking away. That said, the squeaker is loud. And it constantly squeaks when played with, pretty much on every bite. So super fun for the puppy, but a little maddening for the puppy parents."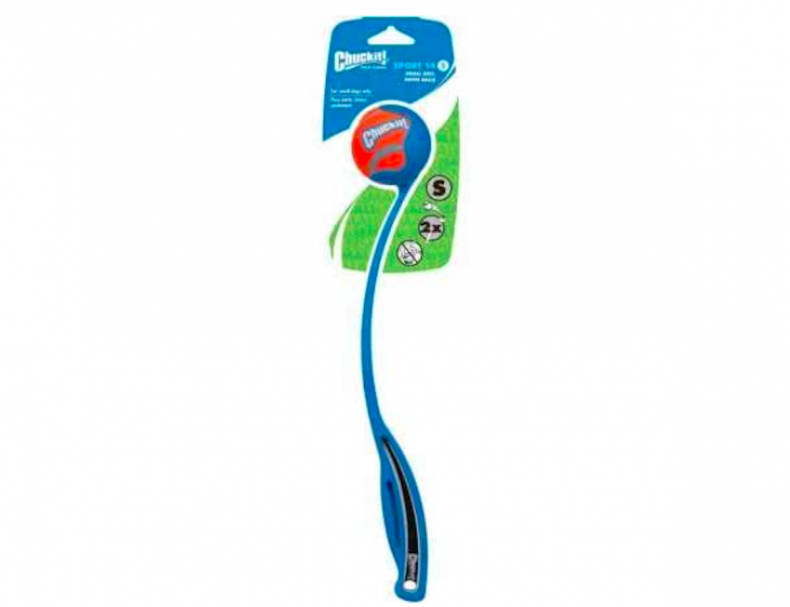 The ChuckIt! Ball Launchers are some of the brand's best-selling toys, but as all small dog owners know, our tiniest canines require a miniversion. Only 14 inches long, the ChuckIt! Mini Ball Launcher features a scaled-down throw cup that sends the miniballs (also available on Amazon) soaring through the air and leaves slobber to a minimum.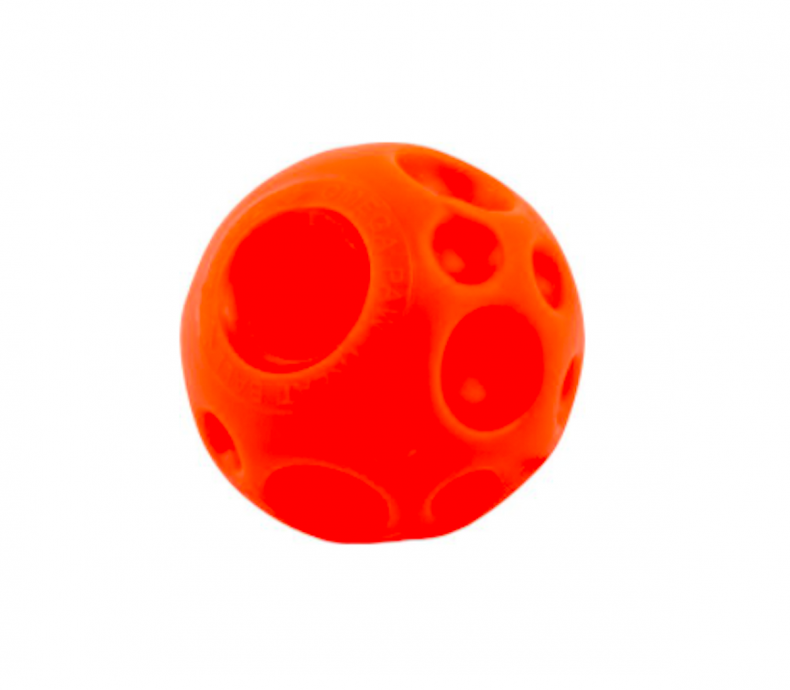 The Omega Paw Tricky Treat Ball falls under the category of treat-dispensing enrichment toys that keep dogs—of all sizes—entertained even when bored. This bright orange ball is challenging and interactive. With its small size and soft texture, it's easy for small paws to grip. Just fill the ball with your dog's favorite treats, and and your pets will self-soothe themselves as the treat dispenses.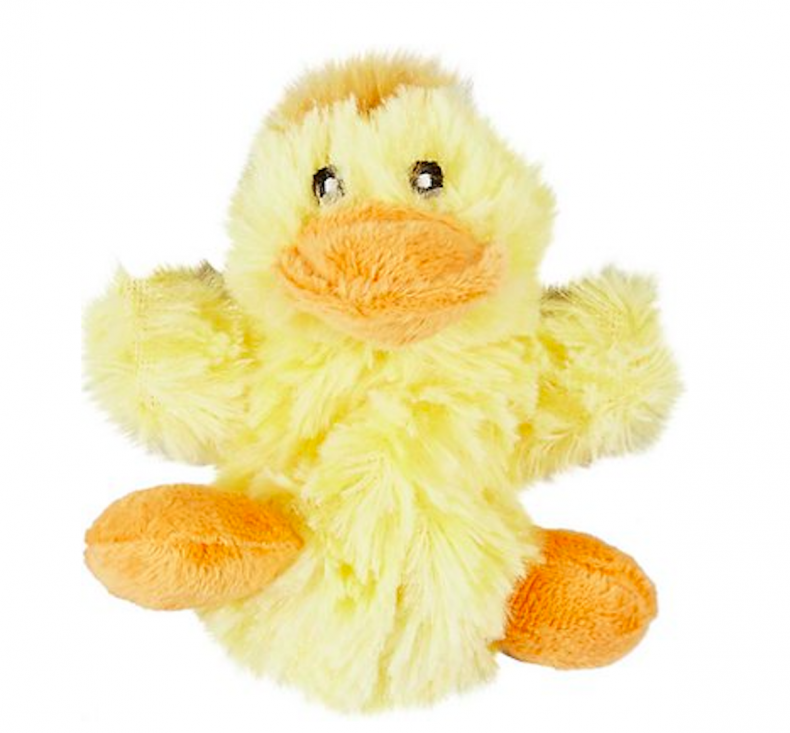 Does your pet live for plushes? The Kong Plush Duck Dog Toy is a best-seller at Chewy, with 1,700-plus reviews. It also features a fully replaceable squeaker (you know, if your little one's teeth tear it to shreds) and minimal stuffing, too, so as to leave less of a mess. This duck toy is also longer than it is wide, which makes it ideal for the crashing and thrashing around that small dogs love to do with their prey—uh, toys.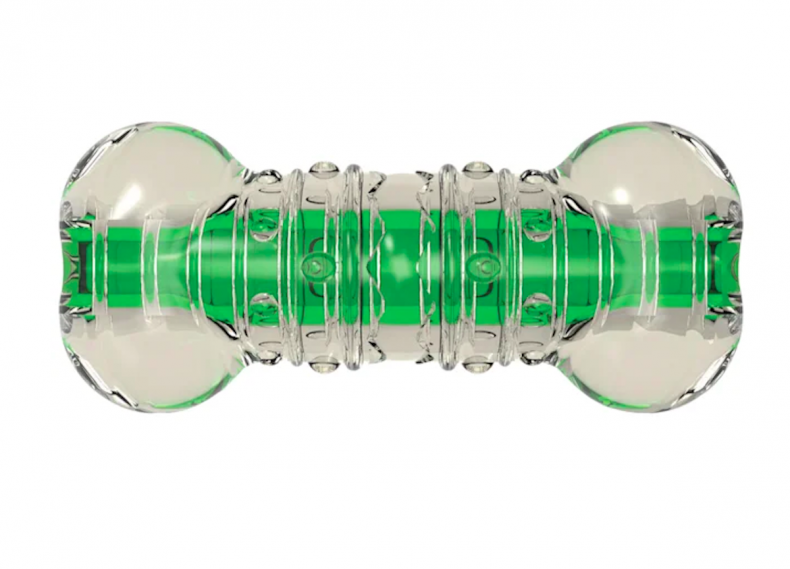 With a crunchy layer and a durable inner core, the Petstages Small Crunchcore Bone Dog Toy is great for pocket-size pooches who love to chew. Unlike other treat dispensing enrichment toys that may err on the flimsier side, this one is heavy-duty and super long-lasting. One Petco.com reviewer added, "My small terrier mix loves the chew and the crunch noise it makes! He is not the strongest chewer so I think it's going to last a while."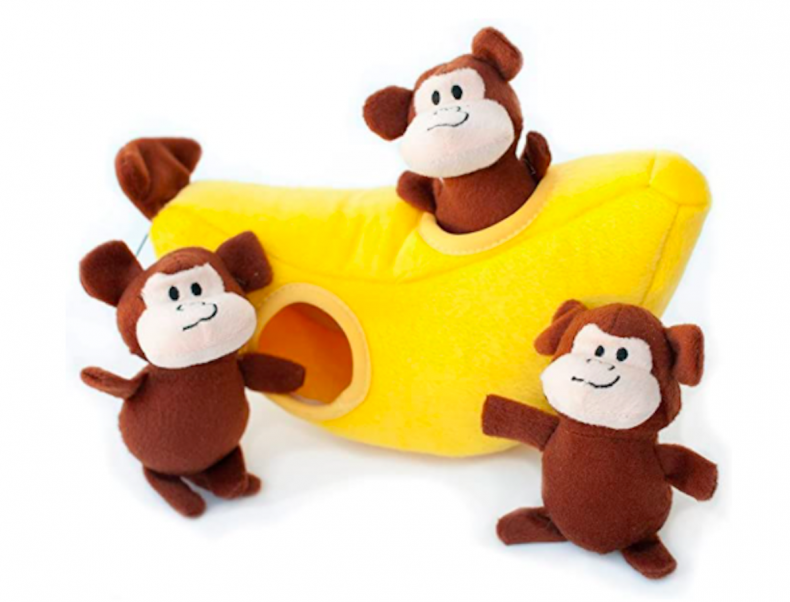 ZippyPaws is one of the best dog toy brands out there, and they make a mean Zippy Burrow Monkey 'n Banana. Part plush toy and part interactive puzzle, it's the easiest—and, frankly, the cutest—way to play hide-and-seek with your pet. Plus, it keeps them busy (and stimulated!) for hours! One reviewer, who gave the toy a five-star review, wrote, "My 4 pound toy chihuahua is obsessed with this toy! I ordered the smallest size and it's the perfect size for her, she can retrieve the pandas from inside and even carry around the panda house!"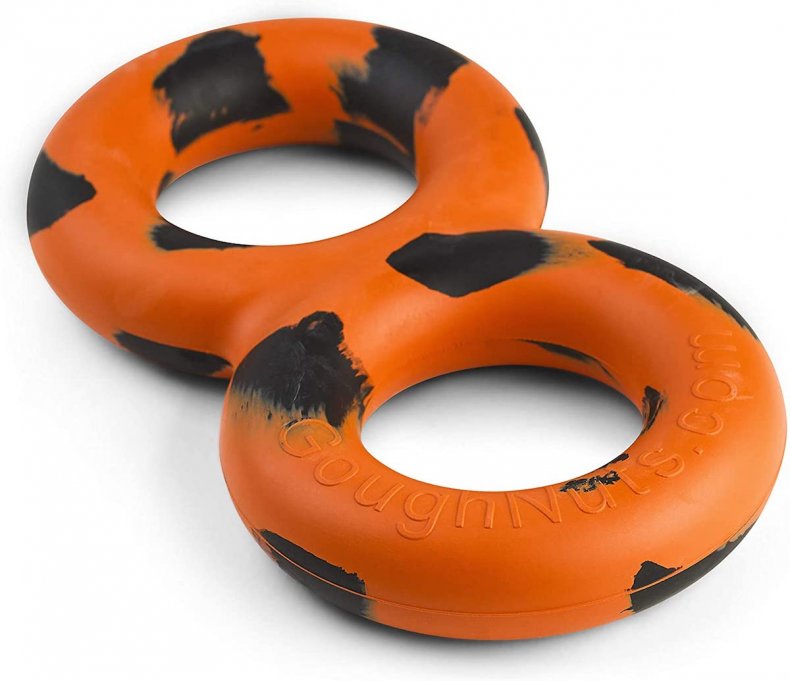 Even the miniest man's best friend can be a super strong chewer. That's where the Goughnuts Pull Toy comes in! Virtually indestructible, this rubber chew toy has a 4.6-star rating and more than 3,000 reviews on Amazon, for good reason. Made in the U.S. of natural, FDA food-grade rubber and guaranteed for life, the Goughnuts Tug Dog Pull Toy keeps your hands safe while playing even the meanest bout of tug of war.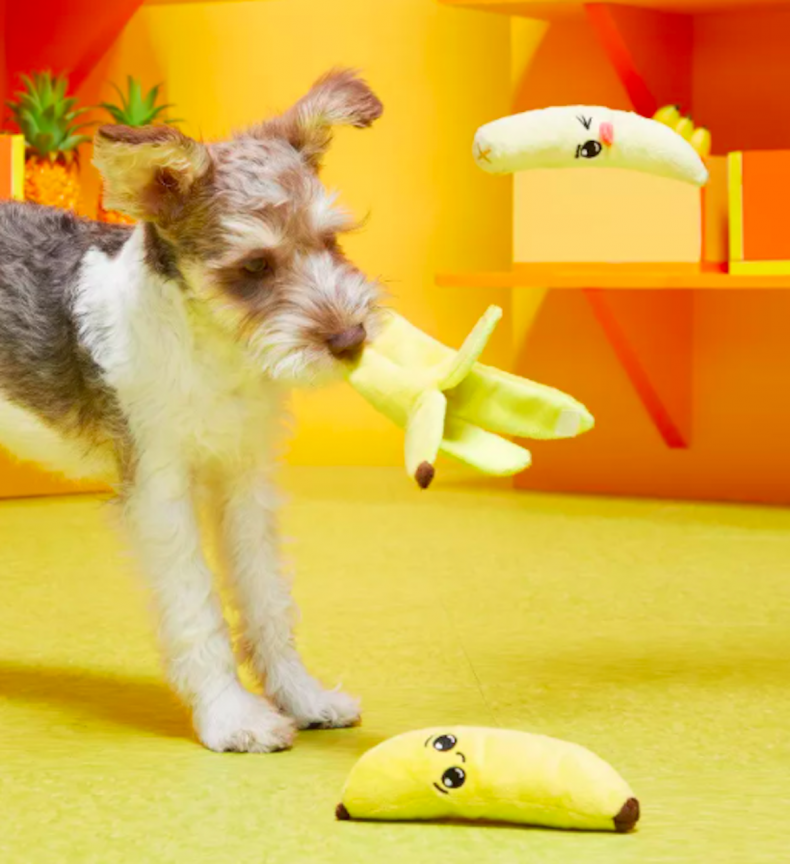 This duo of sassy bananas makes for one of the cutest toys of all time. And trust us, your pooch will think so, too. With a hilarious banana split personality, the Bark Prudence and Imprudence the Bananas Dog Toy comes with a crazy-loud squeaker and, of course, Crazy Crinkle material that drives pups nuts. Target.com reviewers love it, too. The toy has a 4.4-star rating, and one reviewer wrote, "Our puppy loves these. He's just now learning to get a little treat out if I place it down in the peel under the banana. Loves the crinkle too!"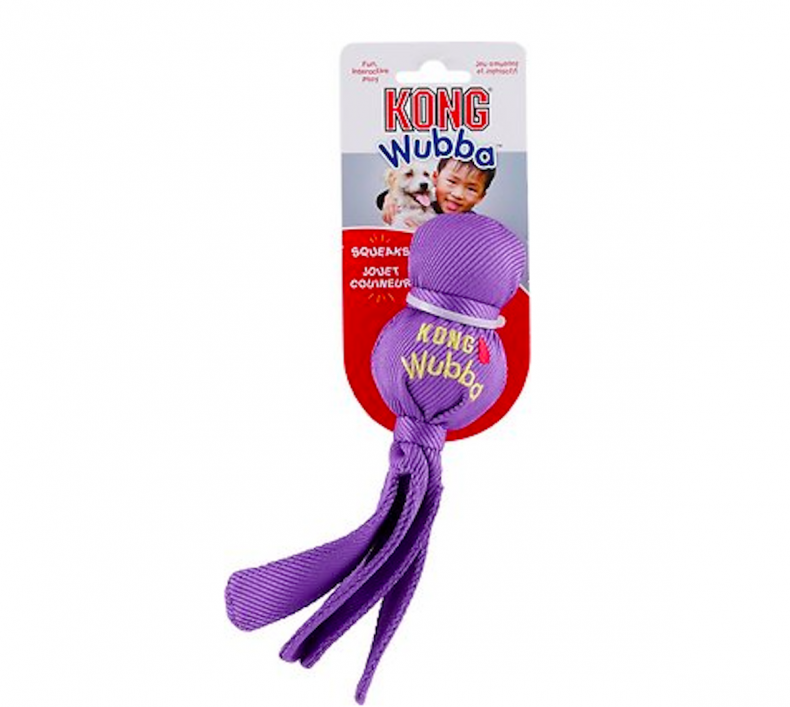 We all know small dogs love to engage in a bit of toss and tug, and the Kong Wubba Classic Dog Toy is the perfect toy for it. With a squeaky, bouncy tennis ball top and long fabric tails on bottom that help it fly, this Wubba toy—available in blue, red or purple—is a fan-favorite among small breeds. One Chewy.com reviewer even wrote, "This is an excellent toy. Well constructed and durable. My small dog absolutely loves this thing. My only complaint is that it is now fraying (after several months of hard play), but this is a minor inconvenience that we solved by [trimming] the strings with scissors. Definitely will buy another one when this one is completely worn out."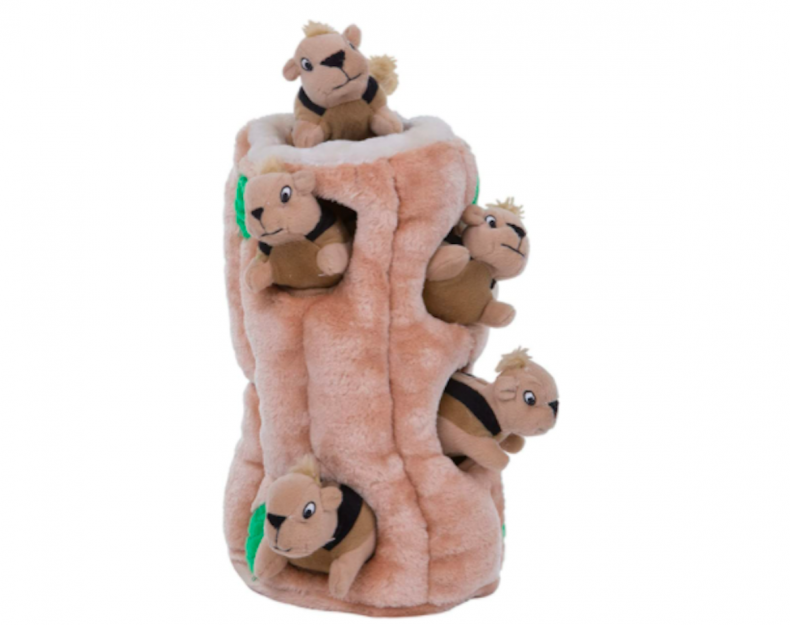 Hide and squeak! That's exactly why little dogs with a big prey drive are obsessed with the Outward Hound Hide a Squirrel Plush Dog Toy Puzzle. Stuff any of the six—or all of the six—tiny, squeaky squirrels inside of the tree trunk and watch as your dog plays with this interactive toy for hours. It ramps up their natural hunting instincts and as each squirrel gives a high-pitch squeak, it only encourages pups more.
Newsweek may earn a commission from links on this page, but we only recommend products we back. We participate in various affiliate marketing programs, which means we may get paid commissions on editorially chosen products purchased through our links to retailer sites.